Slider-1
Taking the Fight Out of Concrete
Slider-2
Taking the Fight Out of Concrete
Slider-3
Taking the Fight Out of Concrete
Slider-4
Taking the Fight Out of Concrete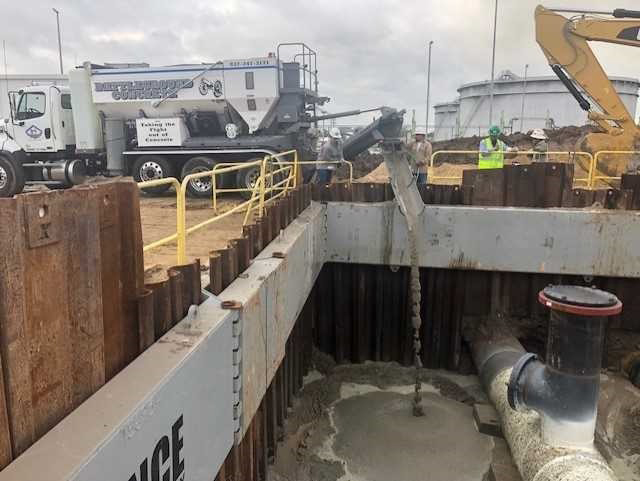 Battleground Concrete is unlike any other concrete provider in this region because we utilize nothing but Volumetric Concrete Trucks. Volumetric Concrete Trucks keep the Sand, Gravel, Water and Cement separated until the mixing cycle starts. The driver will initiate the mixing cycle onsite when the customer's Supervisor/Forman is ready to pour. When the mixing begins it will then start the chemical reactions within the concrete. This is results in fresher concrete in relation to normal Ready Mix Trucks. This also allows Battleground Concrete to stop mixing and start mixing at anytime onsite or make slight changes to the design with a touch of a button.

Safety 
At Battleground Concrete the health and safety of our employees, customers and the public is our top priority. All our drivers undergo a thorough drug testing and alcohol policy. Our roots began with servicing the industrial market so because of this all our drivers possess a TWIC card and go through the Basic+ course at Houston Area Safety Council. Battleground Concrete drivers all have the PPE required to service the industrial market including FR clothing, hard hat, safety glasses and steel toe boots. We strive to be the most professional and safest concrete provider in the Gulf Coast Region.

Quality
Like safety, we put quality of top importance. At Battleground Concrete we have proven mixed designs backed by rigorous testing. We will work with our customers on any QC documents that their customers might need. Our volumetric concrete trucks allow our customers not have to worry about having hot concrete because we mix our concrete onsite. We could pour most mix designs, either one of our mixes or a specific mix that our customer requires. After the pour is complete, we provide our customers with a ticket that shows quantities of materials used so they know that they got exactly what was promised.

Environmental Commitment
Today, more than ever it's important for owners to understand that as a contractor you are using methods that are environmentally sustainable. Battleground Concrete's Volumetric Concrete trucks are the most environmentally friendly way to pour concrete. We can pour the exact amount of concrete that our customers need. This eliminates waste that other Redi-Mix trucks create. On top of limiting wasted concrete, Battleground Concrete can use recycled materials such as crushed concrete upon customer request.